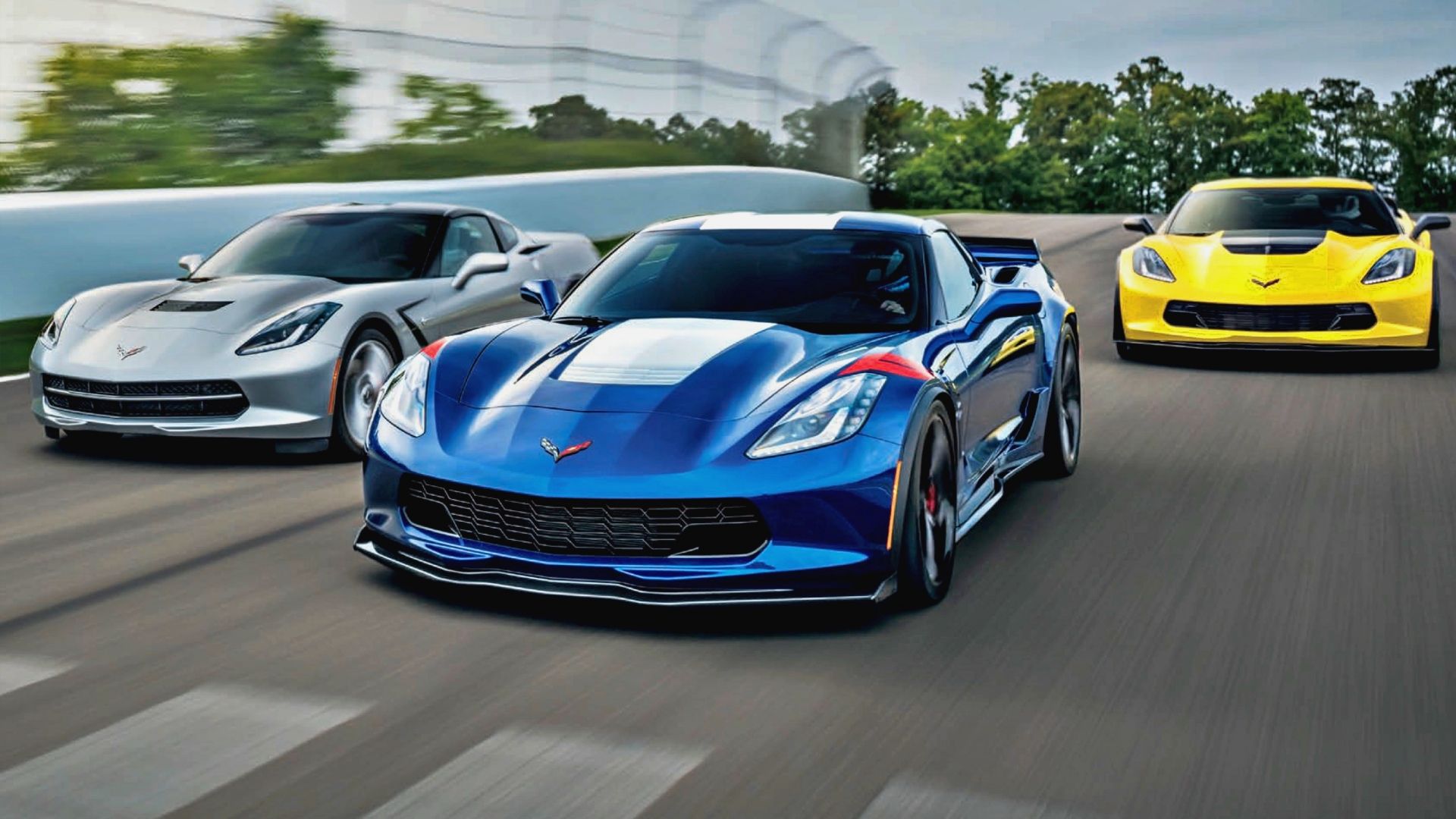 Why The C7 Chevy Corvette Is The LAST Great 'Vette
The Chevrolet Corvette is an American sports car icon with a rich history spanning over 65 years and seven generations. It has always been the performance sports car bargain in every generation with a loyal fan base. From 60-year-old fathers to their 20-year-old grandkids, a Corvette has always been there to serve each generation.
The New C8 generation is here but it is a completely different car from the sportscar we've all come to know. It has a different engine, a new layout, automatic only, and even electrified. It has become more of a European supercar than an American sports car icon. It was the last of its kind in its class after the Dodge Viper left. Traditional Corvette owners now see the C7 (2014-2019) as the last true Corvette but why is that so?
RELATED: Stacking the C7 Corvette Against the C8 – It's Not What You Think
The C7 Is The Last Front-Engine Corvette
3/4 views of  Red, Blue and Silver C7 Corvettes parked
For more than six decades, the Corvette had always been a front-engine rear-wheel-drive car from its inception in 1953. With a long hood, short rear end, and timeless styling, the Corvette had a beautiful silhouette that was always recognizable. The C4-C7 (1984-2019) generations retained this silhouette with each model looking more like an evolution of the previous one.
The idea to go mid-engine was first pitched in the 1960s by Zora Arkus Duntov popularly known as the "Father of the Corvette". The CERV projects were used as studies to show the benefits of a mid-engine layout but were never approved for production. Finally, in July 2019, the C8 Corvette was unveiled and it had a new mid-engine layout.
The Corvette was no longer front-engined and lost its iconic silhouette. It was a big departure for the brand and made the C8 feel like a completely new model. To prove this point, it has no resemblance at all to the previous cars. It looks like a car that would fit in better with a Lamborghini or Ferrari. But the previous layout had some performance drawbacks and was at its limit, the only way to improve the Corvette was to go mid-engine.
RELATED: Hennessey Turned The Chevy Corvette C7 ZR1 Into A True Supercar
The C8 Has A Different Engine
Corvette Z06 Supercharged LT4 V8 engine
The small block V-8 has always been the beating heart of the Corvette. It was a revolutionary engine design made better by Zora Arkus Duntov in 1954 with his high lift camshaft and mechanical novel fuel injection. The Famous LS and now LT engines have been developed over the lifetime of the Corvette.
Its cross-plane crank soundtrack had a deep rumble at idle which was recognizable by most Corvette fans. Get an aggressive camshaft setup and it sounded like an old racecar. This is a form of eargasm to car guys but would be very annoying to non-car people.
Although the base C8 still employs the LT engine, the Z06 now has a flat plane crank. It is the most powerful naturally aspirated engine ever with 670 horsepower and 460 pound feet of torque but it sounds different. When the Corvette starts up or drives by, you could make a good guess of which car it was.
If you made a mistake then you would probably guess another American car. But with the current Z06, hearing it alone would make you think of some European exotic. Even non-car enthusiasts know what an American V-8 sounds like and the Z06 doesn't sound like one.
RELATED: Last Production Chevrolet Corvette C7 Fetches $2.7 Million at Barrett-Jackson Auction
The C7 Has A Manual Transmission
Interior shot of the C7 seven speed manual transmission
Every Corvette has had the option of a manual transmission. The C4 was the first Corvette to offer a traditional automatic which was a four-speed transmission. In the C7, it had evolved to an eight-speed transmission. The final model to offer a stick was the seven-speed manual offered in the C7 Corvette.
There is no manual transmission available for the C8 Corvette. The Corvette has joined the likes of Ferrari, Lamborghini, Audi, and McLaren which do not offer manual. The dual-clutch has been chosen for its smoothness and lightning shifts which improve both daily and performance driving.
But this move may have been a missed opportunity. Manual cars carry a premium these days and GM could charge more for a manual transmission. Porsche has done a good job with this by offering a manual option with its lower trim cars and even the GT3 has one, only the GT3RS and GT2RS are automatic only. Even the Mighty C7 ZR1 which is the most powerful Corvette ever made at this time has a manual transmission they are still commanding prices well over MSRP.
RELATED: 2014-2019 Chevrolet Corvette (C7): Performance, Price, And Photos
Hybridization: No More Supercharged Corvette
Blue Supercharged Corvette Z06 in motion
Forced induction was first used on the Corvette with the introduction of the C6 ZR1. The C7 also made use of a supercharger in both the Z06 and ZR1, this helped the C7 Z06 make more power than the range-topping C6 ZR1. It also helped the C7 ZR1 achieve big power at 755 horsepower and 715 pound-feet of torque. It was an easy way to gain more power and torque while still retaining the linear feel of the V-8 engine.
But the C8 may not use this simple form of boosting power anymore. Instead, hybridization seems to be the way forward. A new C8 E-ray has been introduced with a hybrid powertrain paired with the base engine. Combined it produces 655 horsepower and 595-pound feet of torque which is slightly more power but less torques than the C7 Z06.
For the first time, the Corvette also has an all-wheel drive system with the E-ray. The electric motors power the front wheels while the engine powers the rear wheels. This may be the future of the Corvette with speculations of the C8 ZR1 having a similar hybrid setup but with the Z06 engine.
RELATED: 3 Solid Corvette Alternatives To The Mighty Mid-Engine C8
Modifications Are Easier With The C7 Corvette
Red C7 Chevrolet Corvette on a track
More power is always welcomed with these cars. Modifying these cars for more power has been an age-old tradition. Much like the famed Toyota 2JZ engines, the Corvette LS engines have been known to easily make more power without changing anything.
Basic modifications include cold air intakes, throttle bodies, headers, camshaft exhausts, and a tune that will add power to your vehicle. If you want to go wild then you add a supercharger. If you wanted to get the best out of these modifications then you could add a supercharger.
But with the introduction of factory supercharging in 2015, all you needed to do was buy a C7 Z06 and add those supporting modifications. It isn't uncommon to see these cars jump from 650 horsepower to 1,000 horsepower without those just bolt-on modifications to support it. Even some C7 ZR1 owners have modified their cars to make such numbers easily.
A rear 3/4 shot of a Chevrolet Corvette C7 Stingray
The C8 on the other hand is a nightmare to modify. An ECU Tune is almost impossible with this car, tuners said it seems GM didn't want anyone messing with these cars. You needed a separate ECU to run these cars and it still didn't always run as expected. Early tuned C8s used turbos to further enhance power since that was easier but the full potential was never unleashed because of the locked ECU.
Modifying your C8 would also instantly void your warranty so you need to have that in mind. Hennessey has been able to successfully supercharge a C8 Corvette which makes 700 horsepower but the car costs over $100,000. For that price, you could have a 1200 horsepower monster of a C7 Corvette.
Tuners have become so confident with modifying the C7 that some kits even have a warranty. Late Model Racecraft (LMR) offers a 1 year, 12,000-mile warranty with every kit it sells which shows not just confidence in their work but also the C7 powertrain. Power Modifications are expensive on any car but the C7 is just an easier and cheaper car to modify than the C8 Corvette.
The C8 is a phenomenal car and with a base price of $60,000, it is a steal. But it has lost the Corvette identity, from the new layout to engine sounds, lack of a manual transmission, and almost lack of tunability. Corvettes have always been the American sports car icon never deviating from its roots.
Even when the gas crisis forced automakers to downsize engines, the Corvette remained the same. Many say Zora Arkus Duntov was right about the mid-engine Corvette but the C8 seems more like a supercar than an American sports car icon.