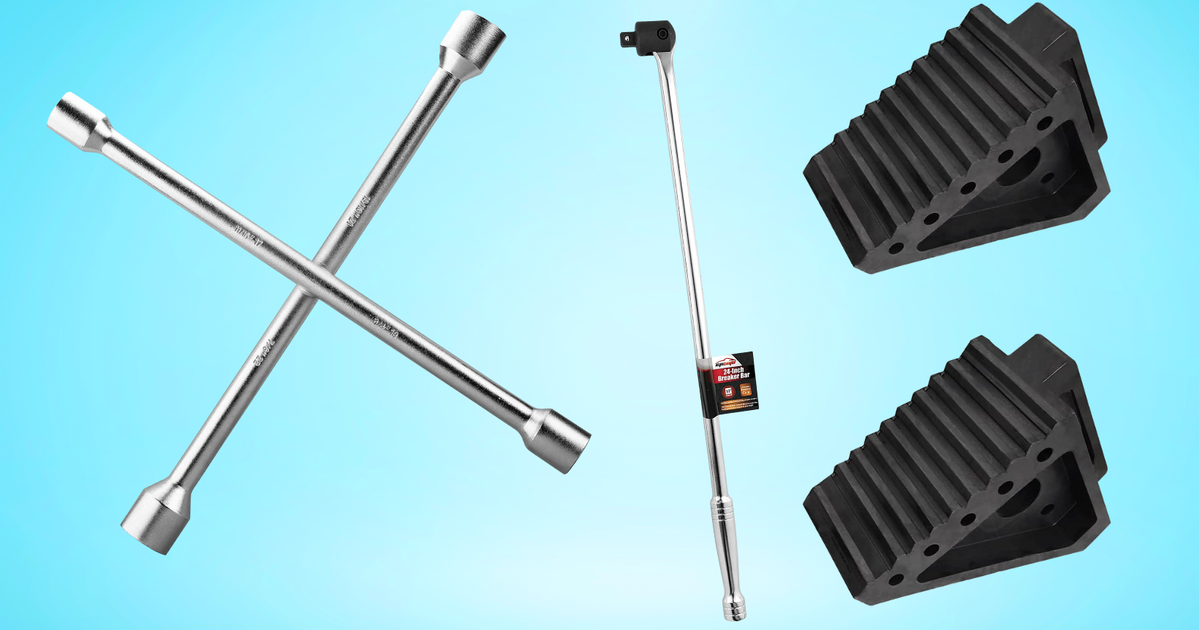 What To Have In Your Car To Fix A Flat Tire
Let's be real here: Changing a tire is intimidating. Sure, it's a "practical life skill." Yes, you could find 100 YouTube videos breaking it down. Still, unless you know, like really know all the tools you need and all the steps you're going to take, fixing a flat is… a lot. Especially if you're not someone who feels particularly confident, strong enough to carry tires or encouraged to ask questions about cars.
"The hardest part of the job is getting the [spare] tire out of your trunk, because there are not a lot of tricks that you can use," said Bogi, an auto technician and owner of Girl Gang Garage in Phoenix, Arizona, and who teaches car tech courses to groups of women and non-binary people. According to Bogi, who goes by her first name, the spare tire can be heavy and may be in a cumbersome position to try to get out on your own.
"For pretty much the rest of the job, you can use tricks to utilize your leg and body strength instead of trying to rely on arm strength."
Bogi is passionate about getting drivers to understand their cars. She recommends getting familiar with your car's manual, as well as the tire-changing tools that may come with your vehicle, such as a spare tire, a jack and some sort of wrench. Once you have all the tools, Bogi recommends practicing changing a tire in a driveway or parking lot.
"It is recommended that people like take off their tire and put it back on again in their driveway when they don't have anything wrong with it," she said. "Once you proved to yourself that it really isn't as difficult as you thought it was when you do have to do it, it's much easier and you'll have that confidence there."
"Practice makes perfect," Ruether told HuffPost. "The knowledge and ability to get yourself out of a pickle will save you a lot of time, money and stress or having to pay back favors to friends coming to your rescue!"
And if you do practice in your driveway and have some trouble, Robin Johnson, owner of Georgia Auto Solutions in Conyers, Georgia, suggests you take a breath and keep trying.
"If you're finding yourself struggling, do not feel bad. You are not an idiot," Johnson said. "Professionals make it look easy, but until you actually get that jack, put it together, find a lift point on the vehicle [and change the tire], it's not easy. Don't get discouraged if it is a challenge for you."
To help you on your tire-changing journey, Bogi, Ruether and Johnson break down everything you need.
HuffPost receives a share from retailers on this page. Every item is independently selected by the HuffPost Shopping team. Prices and availability are subject to change.
This article has been updated to remove a product that was incorrectly included.