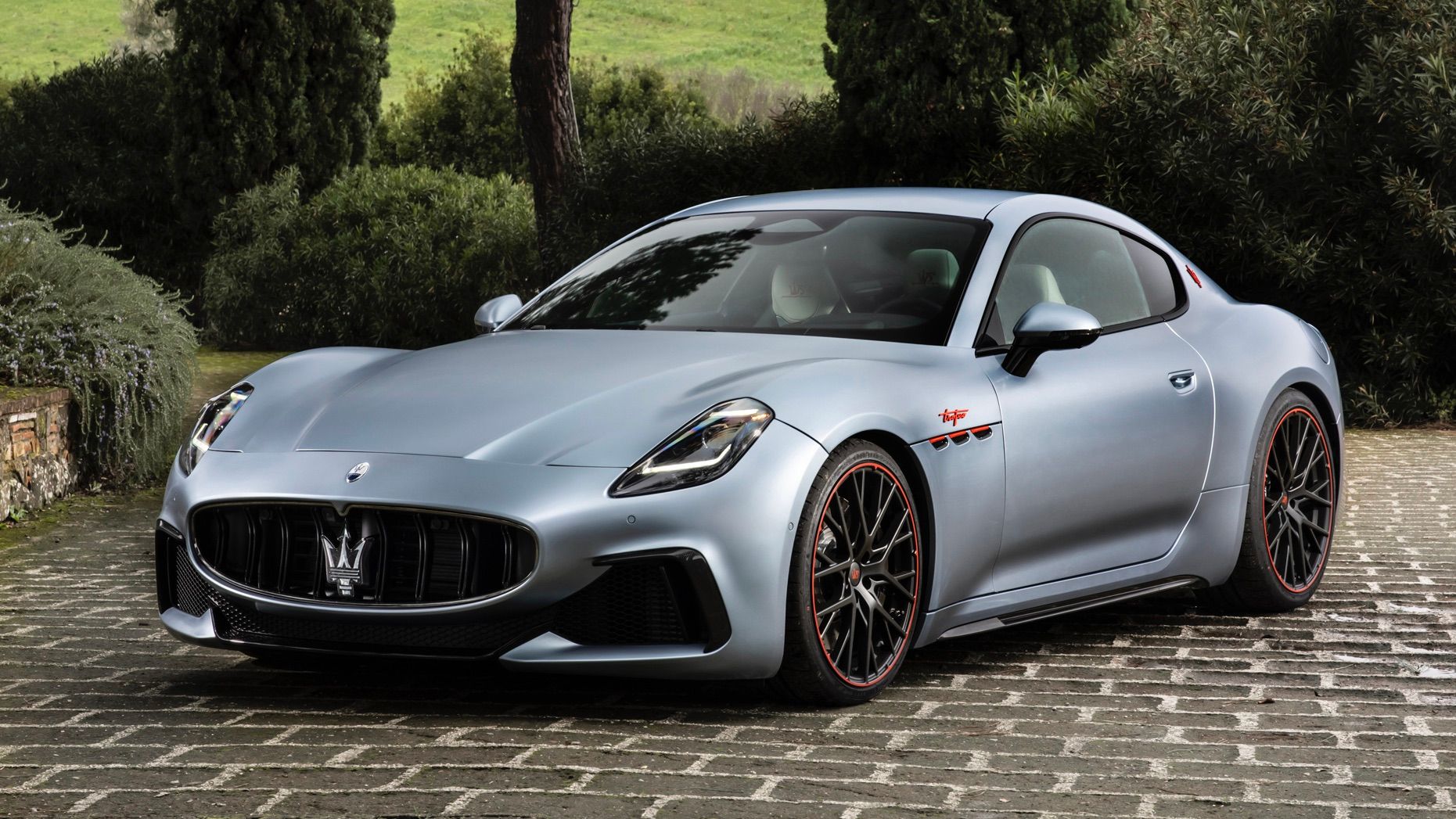 Maserati GranTurismo Trofeo First Drive
Summary
The new Maserati GranTurismo Trofeo delivers a powerful and sporty driving experience without compromising on luxury or comfort. Its Nettuno V-6 engine provides plenty of low-end grunt and a thrilling top-end, making you forget about a V-8.
The GranTurismo combines the qualities of a grand tourer and a sports car seamlessly. It offers ample space for four adults, all-wheel drive for superior traction, and a smooth yet agile performance. The adjustable adaptive suspension keeps the ride comfortable without compromising on handling.
Maserati has added class and taste to the new GranTurismo. The exterior design is subtle yet unmistakably Maserati, and the interior is luxurious and elegantly laid out. Digital technology, such as the customizable center screen and metallic speaker covers, adds a modern touch while retaining the brand's history.
You were probably expecting it to be fast, but compromised, but really it isn't compromised in any significant way. You might think adding all-wheel-drive and removing cylinders would mute the Maserati experience. Wrong again! The new GranTurismo has undergone a rebirth, but make no mistake, its sporty intentions remain fully intact. Coincidentally, "renaissance" was the word of the day when Maserati invited us to drive the new GranTurismo Trofeo, and we heard it a few times between colleagues and the Maserati team.
It wasn't long ago that Maserati's vision of the future was a bit fuzzy. Their products were aging, and the tech/engineering wasn't as competitive. Now though, we have a clear idea of exactly what they are up to and to be honest, we love what we see. Maserati brought out their new Grecale, MC20 Cielo, and of course, the new GranTurismo proudly showcased one after the other. This fresh lineup represents a new chapter for the Italian marque; one that is more technical, competitive, and most importantly, uniquely Maserati.
Our drive took place in the temperate hills of Laguna, California, a truly beautiful backdrop to launch a new sports car. Yes, an all-out sports car is what this GranTurismo has turned out to be.
Related: 10 Things To Know About The Maserati GranTurismo Folgore
Nettuno: A God Among Engines
Like Neptune the god of water and the sea himself, the Nettuno V-6, the very same engine that lurks within the mighty MC20, is also present and powerful in the GranTurismo. It's a punchy, turbocharged engine that you'd never know utilized forced induction. From a dig it has tons of low-end grunt, a fairly strong mid-range, and it doesn't seem to wimp out on the top-end like other turbocharged engines can.
Maserati is quick to reference that its engine tech (and lineup in general) is inspired and engineered from motorsport. The pre-chamber ignition, a technique borrowed from F1, seems to help give the engine it's kick down low, fo a more naturally-aspirated feel.
At idle, the GranTurismo rumbles, giving you and others around an audible growl, a subtle reminder that you're driving something special with big power under the hood. Some will miss the straight-up naughty sounding V-8 from the last GranTurismo, but Nettuno screams up at the top of the rev range and has a character all its own. The sheer thrust that results will make you forget all about a V-8 at the end of the day. It's progressive and predictable, the kind of stuff you want in a powerful sporty car.
Don't forget, this is the Trofeo we are talking about, so you've got 542 horsepower to work with, a near 100 horsepower increase over the most potent version of the outgoing V-8 model. Trofeo sits alongside the all-electric Folgore model, both of which lie above the entry level Modena model. While the immensely powerful Folgore will undoubtedly be insanely quick, we can't help but assume many will still prefer the Trofeo. After all, the GranTurismo does have a bit of a rowdy history.
A True Grand Tourer, But A Sports Car Underneath
GranTurismo lives up to its name. This new model is fast when you need it to be, smooth when you want it to be, and quiet, comfortable, but refined in between. You can actually fit four adults inside, rather than a two seater with just room for handbags in the back like some other quick GT cars. There's plenty of trunk space and all-wheel-drive, but you'd never know. The steering gives no indication that the front wheels are fighting for grip, even though they are contributing to the car's immense traction. It just puts power down perfectly.
The familiar ZF-sourced eight-speed automatic transmission doesn't feel familiar at all. Maserati's programming of the gearbox in conjunction with the angry V-6 results in snappy shifts, both up and down, without any of the annoying jerkiness that sometimes shows up in automatics—even the highly regarded ZF box can exhibit odd traits without proper tuning. Maserati did an extraordinary job making the experience feel exotic, especially with the oversized paddles that have a satisfying weight to them.
The adjustable adaptive suspension keeps the car flat in turns, but never compromises with a crashy ride. Even in the sportiest setting, you simply feel more of the road, but it won't make your lower back ache.
Maserati is doing a lot right with this new GranTurismo, and engineering borrowed from the MC20 supercar might have something to do with that. Opt for the Trofeo model, and you unlock the trick rear diff, and the brakes that come directly from MC20, on top of that glorious Nettuno. In many ways, then, it's two cars in one, an all-weather, accommodating grand tourer on the week days; and a total ripper of a sports car on the weekends.
Related: 7 Practical Mid-Engined Grand Tourers that Came Before the McLaren GT​​​​​​​
Added Class And Taste
While the exterior styling is an evolution of the outgoing car, a well-aged Pininfarina design, it's subtle enough to fly under the radar if needed, but flashy enough to still be a Maserati. Some bold colors are available, along with some classic ones, both inside and out. Overall, the new GranTurismo has evolved into an extremely well-rounded vehicle. It seems the Maserati GranTurismo has grown up a bit, taking things more seriously. This isn't necessarily a negative though as now it can appeal to those looking to enjoy a luxury experience, while still having the necessary power of a sports car. The interior is supple with leather everywhere and a clean modern design that takes minimal approach somewhat, but is also elegantly laid out. You have options of different color tones, materials, all of which appear premium, and feel it too.
Digital Tech, But Not Overly Complicated
The classic center Maserati timepiece is now digital, allowing drivers to pick what they like displayed in the small central screen. You can choose between digital or analog style clocks, a G-meter, power meter, even a classic-style compass—a neat tech touch that retains some of the brand's history. The metallic Sonus Faber speaker covers add to the array of glitzy materials found inside. The instrument cluster can be configured between a few different layouts, and linked between drive modes if desired.
The drive mode knob on the steering wheel allows for quick access to those modes. There is even a dedicated suspension button to lock in your desired suspension setting independent of the drive mode you've selected. This is a great feature that lends well to the GT driving experience, as many drivers tend to prefer all the car's systems in an aggressive mode, but with a soft suspension setting. The center screen houses many features, but there is an array of hard buttons to adjust frequently used settings.
Where The GranTurismo Makes Sense
With the Trofeo starting at $205,000, it's in range of both competitive GT cars and some serious sports cars, so it's a good thing the GranTurismo can pull off both roles. A main competitor would be the SL63 from Mercedes-AMG. While that car boasts a lower starting price and higher output from its V-8, it isn't any quicker to 60 miles per hour, and the rear seats/cargo storage are abysmal by comparison. With the GranTurismo Trofeo, amazingly, you experience fewer compromises, and just as much real-world performance. If you don't need the full 542 horsepower, the 483 horsepower Modena model still possesses the same Nettuno engine, but starts at $175,000.
In the foreseeable future we'll have a mix of ICE-powered vehicles along with electrified variants. While chatting with Maserati Americas CEO Bill Peffer, he reassured us that for the time being both internal combustion and electrification will be seen as equals since not all drivers are ready to make the jump straight to electric. We appreciate that everyone will have options within the Maserati brand as a new chapter has begun for the brand, one that shows significant promise.