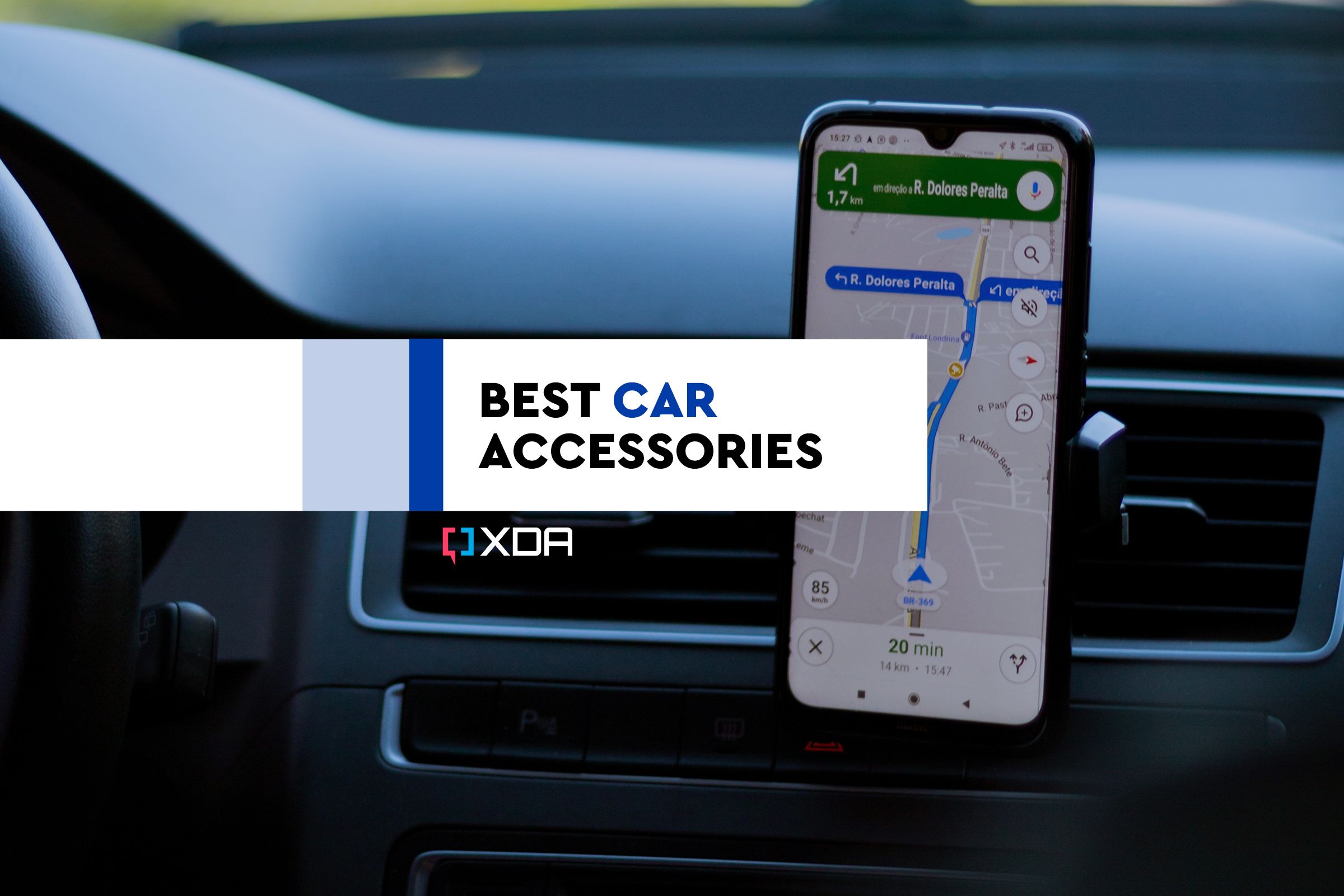 Best car accessories for your smartphone in 2023
Keep your battery going and your hands on the wheel with some of the best car accessories for your smartphone
If you're anything like me, your phone is one of your most used tools. Today's best phones take amazing pictures, offer instant access to news, help you communicate with others, and provide a way to navigate the world. And all that technology fits into your pocket and goes with you everywhere.
You can get more out of your phone by decking it out with a few tools. Accessories like MagSafe chargers and Qi wireless chargers keep your battery topped off at home, and they can do the same in the car on vacation or grinding through a work commute. If you're ready for a few upgrades, this list of the best car accessories for your smartphone can help.



Source: Spigen

Spigen ArcStation 65W


Editor's choice

The Spigen ArcStation is a compact car charger that can handle your smartphone, tablet, computer, and other portables. This pint-sized charger has one PD 3.0 port that delivers 45W and one USB-C 20W port. It is small enough to stay out of your way and has enough juice to keep your devices running while you're on the road.




Source: Ugreen

Ugreen USB-C car charger


Best value

The Ugreen USB-C car charger sports two ports and a low price tag. The 20W PD port fast-charges PD-enabled devices, like phones and dashcams. A secondary USB-A port gives you 18W of power for topping off additional devices. This low-profile charger sits flush against your car's outlet and has built-in power management to prevent overheating.




Source: Jensen

Jensen J1CA7


Premium pick

You can give your old car a fresh upgrade with the Jensen J1CA7. This 7-inch touchscreen car stereo receiver adds Apple CarPlay or Android Auto to your dashboard. You can sync your smartphone with your car's speakers to stream podcasts, audiobooks, and music, plus follow GPS directions and make calls hands-free.




Source: Anker

Anker USB-C to Lightning


Sturdy cable for iPhones

Anker's USB-C to Lightning cable costs less than the proprietary charging cord from Apple while delivering the same speeds. MFi Certified and built to last, the Anker cable plugs into any USB-C car charger and supports Power Delivery. It is 6 feet long and available in white, black, and gray.




Source: Spigen

Spigen DuraSync universal charger


Works with any device

Spigen's DuraSync is a 3-in-1 universal charging cable that can power all your portables. It works with Micro-USB, Lightning, and USB-C. The cable is 4.9 feet long and braided, so it never tangles or wears out prematurely. If you have a brand-agnostic family, this is one of the best smartphone accessories you can buy.




Source: Amazon

Amazon Basics USB-C to USB-A charging cable


Best long cord

The Amazon Basics USB-C to USB-A 3.1 charging cable comes in red, dark gray, pink, and silver. At 10 feet long, it's a cable that'll stretch all the way to the backseats when needed. The charging cord works with most devices and has data transfer speeds of up to 5Gbps.




Source: 1Mii

The 1Mii Bluetooth adapter slips into your aux port and connects your smartphone to your car's speakers.

1Mii Aux Bluetooth Adapter


Go hands-free cheaply

The 1Mii Bluetooth adapter fits in your car's AUX port and turns your "dumb" car into a smart car. With Bluetooth 5.1, you can stream music wirelessly from your phone to your car's speakers and make and take phone calls. The 1Mii can pair with up to two devices and has an internal battery that holds out for 14 hours.




Source: Avantree

Avantree Roadtrip bluetooth speaker


Two-in-one hands-free kit

Avantree Roadtrip is a Bluetooth speaker and FM transmitter in one. Once installed, you can make and receive hands-free calls and text messages. You can also stream your playlist from your smartphone right to your vehicle's speakers. The Roadtrip installs in seconds by sliding over your vehicle's visor and has built-in noise cancelation for clear calls.




Source: Belkin

Belkin BoostCharge for iPhone


MagSafe vent charger

iPhone owners will love the Belkin magnetic wireless car charger. It attaches to any vehicle's air vent and serves as a phone holder and wireless charger. The Belkin BoostCharge includes the MagSafe vent holder and charger, plus a charging cord and a 20W USB-C PD 3.0 car power supply.




Source: iOttie

iOttie AutoSense Qi charger


Qi charger and phone holder

The iOttie AutoSense is a Qi wireless car charger and phone holder. The AutoSense sits conveniently in an unused cup holder, so it doesn't take up precious dash or vent space. The AutoSense has motion-sensing technology, automatically opening and closing the mount when needed. And iOttie charges your Android or iPhone using Qi.




Source: Lisen

Lisen's phone mount works with 20 strong magnets, holding iPhones in place without disrupting your cell signal.

Lisen MagSafe car phone mount


Heavy-duty MagSafe mount

Lisen's MagSafe mount works with all compatible iPhones. Twenty heavy-duty magnets secure your phone to the mount, holding it in place while you travel. The Lisen sticks to your dashboard with 3M adhesive, moves in three positions for the perfect viewing angle, and works with all MagSafe-compatible phone cases.




Source: Syncwire

Syncwire Bluetooth FM Transmitter


FM transmitter with enhanced bass

Syncwire's Bluetooth 5.1 FM transmitter plugs into your car's charging port. It offers fast 38W PD charging and QC 3.0 fast charging. In addition, the Syncwire gives any car hands-free capability. By connecting with your car's speakers and smartphone, you can stream tunes, make phone calls, and listen to GPS instructions. This transmitter even has a built-in bass booster.
Recapping the best smartphone car accessories

The Spigen ArcStation 65W makes it to the top of this list for its usefulness. The ArcStation quickly charges smartphones and can also do the same for laptops, game consoles, and tablet batteries. With two ports and a low-profile design, it's no wonder this accessory was a favorite of ours.
The best value award goes to the affordable Ugreen USB-C car charger. It has two ports, including a 20W PD fast-charge port and an 18W USB-A port, and it won't set you back much.
If you want to upgrade your car without getting weighed down with a new car payment, I recommend the Jensen J1CA7. It's a 7-inch touchscreen that installs on your dash, giving you access to Apple CarPlay and Android Auto features.
Whether you're enjoying one of today's best iPhones or fully behind Android, accessories are must-haves that help you get the most out of your device.