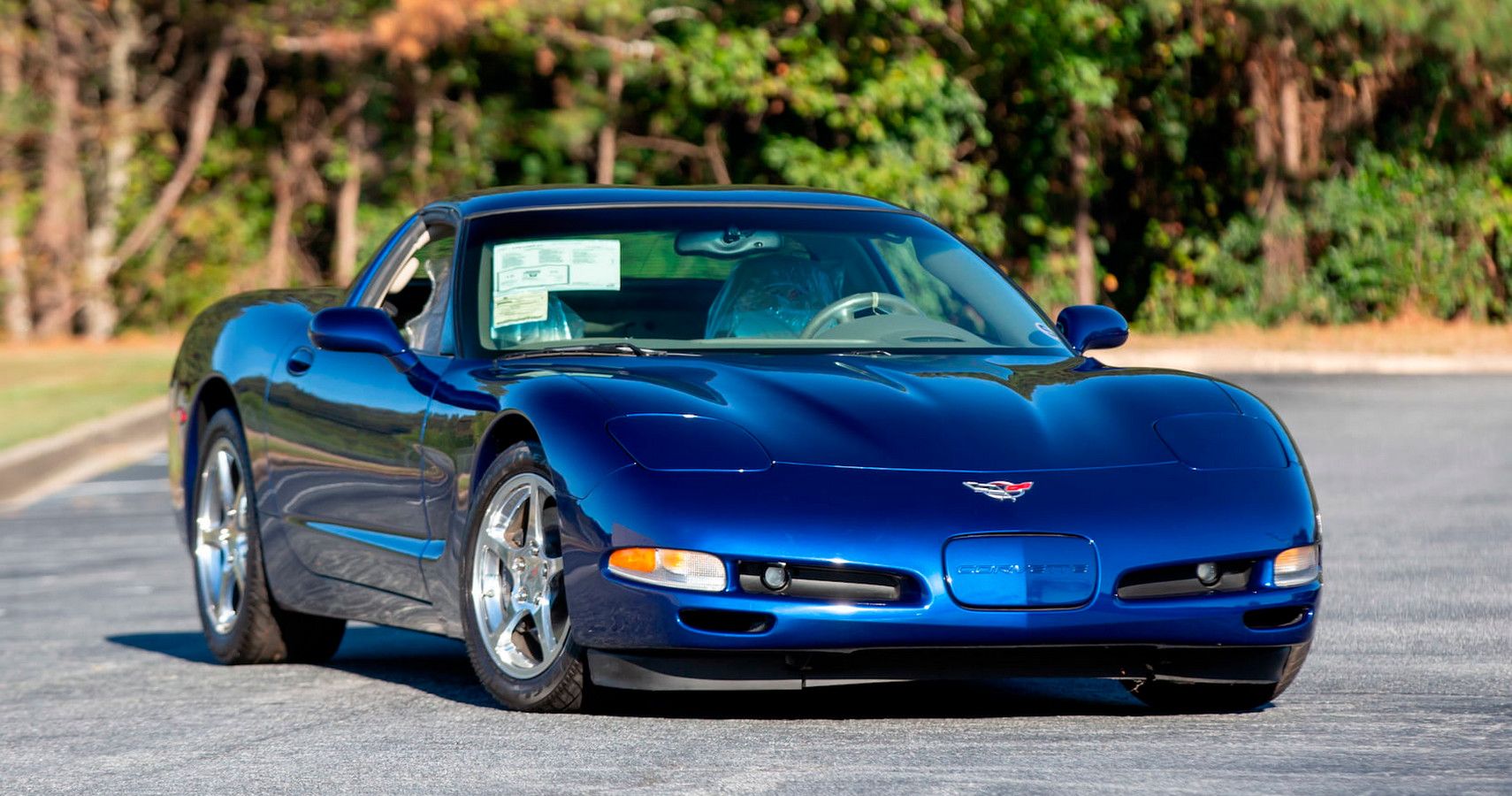 8 Cheap Sports Car Alternatives To The New Mustang EcoBoost
The 2024 Ford Mustang EcoBoost cut the 2023 model short and entered into its seventh generation pretty early. Although the new Mustang EcoBoost has some new tricks up its sleeves and retails for a respectable starting price of $32,515, there are better options in the market–especially if you're running tight on your budget.
You probably want something fast–say a sports car that rivals or even outperforms the new EcoBoost on a budget. Fortunately, there are tons of incredible options, both new and old, from leading automotive manufacturers that'll give you the speed thrills you're looking for. And in some cases, you'd be paying pennies on the dollar. So, let's take a look at some cheap sports car alternatives to the new Mustang EcoBoost.
Pricing information along with other metrics were sourced from Kelly Blue Book, Edmunds, and manufacturer's official webpages.
8
2022 Subaru BRZ
Average Used Price: $28,595
The 2022 Subaru BRZ has earned its spot as an affordable and exciting car on the market today. Powering this dynamic vehicle is a 2.4-liter DOHC flat-4 "boxer" engine that's been skillfully honed by both Subaru and Porsche. This version of the boxer engine delivers an energetic punch of 228 horsepower at 7,000 RPM and a torque of 184 pound-feet at 3,400 RPM.
What's even more impressive about the 2022 engine is its increased size – by nearly half a liter – which translates to a substantial gain of 23 horsepower and 28 pound-feet of torque compared to the previous model. This elevated power output contributes to an even more exhilarating driving experience.
| | |
| --- | --- |
| Top Speed | 145 mph |
| 0-60 mph | 6.6 seconds |
| Horsepower | 228 hp |
| Torque | 184 lb-ft |
7
2022 Toyota GR86
Average Used Price: $28,400
While the Toyota GR86 and the Subaru BRZ were designed as well-balanced momentum cars, there are nuanced differences in their suspension tuning. These subtleties distinguish the GR86 and make it stand out as a factory-made drift car. While these distinctions might not leap off the page, they come to life on the track, revealing their importance.
RELATED: 10 Coolest 2000 Performance Cars That Flew Under The Radar
A notable factor contributing to the Toyota GR86's drift-friendly character is its thicker and stiffer rear sway bar. Unlike the first-generation Toyota 86, which housed a 2.0-liter Boxer 4-cylinder engine with a shortage of torque, the GR86 boasts a 2.4-liter Boxer engine that significantly reduces the torque dip that affected its predecessor. Although the increase in power might not be a jaw-dropper, it has propelled these cars to an output of 228 horsepower and 184 foot-pounds of torque.
| | |
| --- | --- |
| Top Speed | 140 mph |
| 0-60 mph | 6.6 seconds |
| Horsepower | 228 hp |
| Torque | 184 lb-ft |
6
2023 Chevrolet Camaro
Average Used Price: $26,100
In 2023, the Camaro proudly holds the title of being the most budget-friendly new rear-wheel drive car, but here's the catch – it's only true when it's powered by the 2.0-liter turbocharged four-cylinder engine. While there's a strong V8 fanbase, let's keep an open mind here. While car enthusiasts understand the allure of a V8, it's no secret that V8 cars and wallet-friendly don't always go hand in hand. Sadly, the Camaro fails to attract buyers owing to a shoddy interior.
The 2023 Chevrolet Camaro, with that turbo four-cylinder engine, wears the crown of the most pocket-friendly new rear-wheel drive car. It starts at $26,100, giving it a nice $1,700 edge over its closest rival, the Ford Mustang. But, here's a twist. The Camaro's reign as the budget kingpin won't last forever. Chevrolet dropped the news that the current Camaro, as we know it, will be saying its goodbyes in January 2024. Yep, that's right – it's the end of an era for the Camaro nameplate on gas-powered, rear-wheel drive vehicles.
| | |
| --- | --- |
| Top Speed | 180 mph |
| 0-60 mph | 3.9 seconds |
| Horsepower | 275 hp |
| Torque | 295 lb-ft |
5
2004 BMW Z4
Average Used Price: $7,000
The BMW Z4 E85 generation finds its place on this list due to its distinctive and captivating design. Similar to the Genesis coupe, this compact BMW roadster might not appeal to everyone, but its impressive power capabilities are undeniable. Beneath its hood resides a 3.0-liter inline-six engine, producing a substantial 228 horsepower.
This power is efficiently transferred to the rear wheels through a six-speed manual transmission, enhancing the driving experience. Interestingly, you can easily locate well-maintained models with relatively low mileage, all for a reasonable price of under $10,000.
| | |
| --- | --- |
| Top Speed | 155 mph |
| 0-60 mph | 5.3 seconds |
| Horsepower | 228 hp |
| Torque | 214 lb-ft |
4
2009 Nissan 370Z
Average Used Price: $12,900
The Nissan 370Z stepped onto the stage with its official public debut at the 2008 Greater Los Angeles Auto Show. Serving as the next chapter in the evolution of the Z-car lineage, it brought forth a range of fresh changes that injected excitement into the automotive world. This particular iteration carries the Z34 chassis code and was marketed as the Fairlady Z in Japan, while being recognized as the 370Z internationally – a nod to its engine displacement.
RELATED: 10 Rare Sports Cars From The 1990s You Forgot About
During its lifespan, the 370Z remained steadfast with a sole powertrain option. Nestled under its hood was a 3.7-liter naturally-aspirated V6 engine, bearing the internal designation VQ37VHR. This power plant unleashed a robust output of 332 horsepower and 270 lb-ft of torque, representing modest enhancements compared to the standard variant. While the NISMO variant prioritized handling prowess, both iterations of the 370Z demonstrated commendable performance. Accelerating from 0 to 60 mph, the manual Coupe clocked in at 4.7 seconds, the automatic Coupe at 4.6 seconds, and the Roadster at approximately five seconds. In terms of top speed, the 370Z can attain 160 mph.
| | |
| --- | --- |
| Top Speed | 160 mph |
| 0-60 mph | 4.6 seconds |
| Horsepower | 332 hp |
| Torque | 270 lb-ft |
3
2023 MX-5 Miata
Average Used Price: $28,050
The 2023 MX-5 Miata holds a certain appeal in the realm of small cars and owing to its rich legacy. Despite not being a full-fledged sports car, it does possess an unexpectedly spirited performance. The sleek exterior design adds a modern touch, exuding a sense of style that's hard to ignore.
Under the hood, a 2.0-liter inline-four engine operates efficiently, delivering a respectable 181 horsepower. The rear-wheel drive configuration adds an element of excitement to the equation. For those who value choice, the Miata offers both automatic and manual transmission options, catering to buyers looking for stick-shift or convenience.
| | |
| --- | --- |
| Top Speed | 126 mph |
| 0-60 mph | 5.7 seconds |
| Horsepower | 181 hp |
| Torque | 151 lb-ft |
2
2020 Fiat 124 Spider
Average Used Price: $25,390
Back in early 2016, the Fiat 124 Spider burst onto the scene as a seriously fun-to-drive sports car that wouldn't break the bank. It shares a platform with the Mazda Miata MX-5, which means it's got all the good stuff that made the Miata a hit among folks who crave that wind-in-your-hair thrill.
Under the hood, you've got a turbocharged inline-4 engine pumping out a peppy 160 horsepower and 184 lb-ft of torque. Trust me, when you hit those corners, the Fiat 124 Spider really comes alive. The handling is nimble, and the driving dynamics are spot-on, making every twist and turn a joy. And let's not forget about that convertible top – it's a breeze to operate.
| | |
| --- | --- |
| Top Speed | 144 mph |
| 0-60 mph | 6.5 seconds |
| Horsepower | 164 hp |
| Torque | 84 lb-ft |
1
2004 Corvette C5
Average Used Price: $17,000
The fifth-generation Chevrolet Corvette, fondly referred to as the C5, marked an evolutionary leap for this cherished sports car from the Bow Tie brand. Interestingly, as we find ourselves in the midst of the eighth generation, the C5 stands out as an alluring option for used car seekers, thanks to its appealing price range. And the best part-it's got pop up headlights!
RELATED: 10 Modern Sports Cars With The Lowest Maintenance Costs
The debut of the fifth-gen Chevrolet Corvette witnessed the introduction of a fuel-injected, naturally aspirated 5.7L LS1 V8 engine. This powerhouse churns out a robust 345 horsepower and 350 lb-ft of torque, providing more than ample oomph to propel the 3,217-pound Plastic Fantastic from 0 to 60 mph in less than five seconds.
| | |
| --- | --- |
| Top Speed | 175 mph |
| 0-60 mph | 4.7 seconds |
| Horsepower | 345 hp |
| Torque | 350 lb-ft |