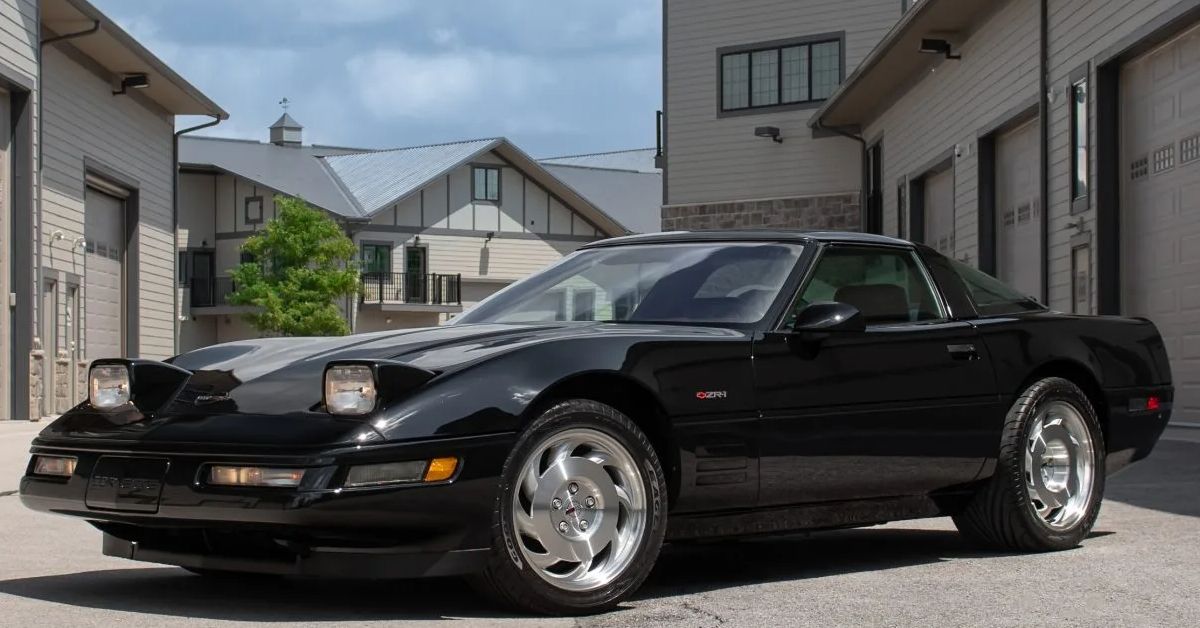 10 Iconic '90s Sports Cars That Are Still Cheap
The car scene in the '90s was defined by several amazing sports cars that delivered neck-snapping performance. While several of these machines still roam the streets, others have failed the test of time. It is not surprising that powerful and stylish sports cars are expensive to buy, no matter the era they come from. The '90s birthed a breed of sports cars that became the stuff of legends, inspiring countless posters on bedroom walls and igniting a passion that still burns bright within the hearts of car enthusiasts today. But what happens when one such car enthusiast is looking to purchase a cheap sports car from the '90s that offers performance without breaking the bank? Searching for such a car is no easy task, as excellent machines don't go down in value that much.
However, through some online marketplace research, one can find several gems that, despite their stunning looks, ample power, and respectable agility, don't cost you an arm and a leg. Here is a list of 10 such iconic '90s sports cars that are still cheap on the used car marketplace. Stats have been obtained from Edmunds and Kelley Blue Book. Valuations differ significantly depending upon location and vehicle condition.
10
1999 Mazda Miata MX-5 – $2,840
The Mazda MX-5 Miata series are some of the most successful machines that Mazda has ever built. Although the modern Miata has evolved into a stunning world-class sports car, the original Mazda MX-5 from the '90s is what truly cemented these machines as some of the most recognizable and loved sports cars on the planet. The 1999 Mazda Miata MX-5 is the tenth anniversary edition of the MX-5, painted an Innocent Blue Mica with a vinyl soft top along with 15-inch chrome alloy wheels.
Usually, sports cars demand perpetual stops at the gas station, thus draining your bank balance. The 1999 MX-5 is rather respectable when it comes to fuel economy, with around 24 mpg combined being its average, due to its efficient 1.8-liter inline-four engine that pumps out around 140 horsepower while keeping your pockets from catching fire.
With a near-perfect weight distribution, fine-tuned suspension, and responsive handling, the car made a name for itself quickly. Mazda built this machine with great caution, improving and upgrading it as much as possible without diluting its personality. Today, the car is valued at just around $2,840, and can be found in great condition on the used car market for anyone looking for cheap sports cars from the '90s.
RELATED: 10 Best Mazda MX-5 Miata Models You Need To Consider
9
1993 Toyota MR2 – $3,457
The early models of the Toyota MR2 were criticized for their tendency to exhibit a pronounced oversteer. Surprisingly, though, later models like the 1993 Toyota MR2 are known to be near-perfect and reliable sports cars. Toyota is known for their reliability and hardware quality, and the 1992 MR2 is no exception. Steering clear of models from the mid to late '90s is the best course of action, but 1993 was a great year for the MR2. This was the second generation of the car, and with its rear-wheel drive, mid-engine setup, it ruled the streets. The 1.6-liter DOHC 16V 4A-GE engine that came fitted under the hood of this car was able to output a modest 128 horsepower, while the Turbo variant could generate around 200 horsepower.
A fair price is generally placed at around $3,457, which is quite cheap for a car of this caliber. Anyone looking to invest in a cheap sports car from the '90s should seriously consider a Toyota MR2.
8
1990 Nissan 300ZX – $6,307
The 1990 Nissan 300ZX was a great car that was built at the wrong time. Overshadowed by the Nissan Skyline GT-R which was built around the same time, the Nissan 300ZX was by no means inferior in terms of price-performance ratio, and delivered ample power along with stylish looks. If it was released into the market in another era, the 300ZX would have sold more units than Nissan could count. The '90s just happened to be ruled by the Skyline GT-R due to its superior AWD system that was fine-tuned for track performance. Regardless, the 1990 Nissan 300ZX came with a powerful 3.0-liter V6 engine, with output rated at 222 horsepower.
The Nissan 300ZX could sprint from 0 to 60 mph in a mere 6 seconds, with its top speed capping at 155 mph. If bought from a dealer, one can find these for as low as $6,307, making the 300ZX insanely cheap for those looking to buy a '90s sports car that delivers on both form and function at an affordable price.
RELATED: Here's How The 1990 Nissan 300ZX Stacks Up Against Other Cheap '90s Sports Cars
7
1992-1996 Dodge Stealth R/T Turbo – $7,274
The Dodge Stealth R/T from the mid-90s was an amazing car that could pump out around 320 horsepower using its 3.0-liter twin-turbo V6 engine. Despite the efficient V6 residing under the hood, the Dodge Stealth barely gave a combined 18 mpg in average fuel economy. Nevertheless, the car looks stunning and performs really well when compared to its competitors.
The 1996 Stealth R/T catapulted from 0 to 60 mph in a mere 5.2 seconds. The 1992 model of the Dodge Stealth is valued at around $4,605 if bought from dealers. However, a used 1996 Dodge Stealth R/T AWD Turbo could cost you around $7,274.
Given that the 1996 model is an AWD machine, turbocharged, with a price tag that is still within the reach of most, it is recommended to give priority to this variant over the 1992 model. However, either is amazing in terms of their cost-performance ratio.
6
1994 Porsche 968 – $7,719
Valued at around $7,719 at used market dealerships when in outstanding conditions, the 1994 Porsche 968 is proof that luxury cars don't have to cost a fortune. Private sources might value the machine even lower, sometimes as low as $4,776. The low price-tag might make it seem that this machine lacks in terms of performance, but that is hardly the case, as the 3.0-liter inline-four engine that sits under the hood of this machine pumps out a respectable 236 horsepower, allowing it to reach a top speed of around 157 mph.
From a standstill to 60 mph, the 968 sprints the distance in around 6 seconds, which is quite decent. The Porsche 968 is a great bargain for those looking for cheap '90s cars that offer decent performance. The car tops the list of cheapest Porsche cars one can buy on the used car marketplace.
5
1997 Honda Civic Type R – $13,518
The 1997 Honda Civic Type R, a front-wheel-drive hatchback, may not boast impressive power by today's standards, but that doesn't stop it from impressing the sports car scene with its nimble handling and fine-tuned suspension that allows it to maintain its stability regardless of the terrain it is driven on. Thanks to its compact design, the relatively lightweight 1997 Honda Civic Type R, known as the 'EK9,' shares several similarities with the 'EG6' variant, and runs downhill like it is nobody's business.
Honda has perfected the recipe of the FWD sports car, and have cemented themselves in the sports car scene as a force to be reckoned with. These '90s cars are iconic due to their balanced nature and superior weight distribution in comparison to most FWD cars out there on the streets. The top speed of this machine stands at around 140 mph, while it takes a little over 6.5 seconds to reach 60 mph. Anyone looking for affordable sports cars from the '90s, can find these on the used market for as low as $13,518.
RELATED: This Is The Best Generation Of The Honda Civic Type R
4
1990-1993 Mazda RX-7 – $13,750
The second and third generation of the Mazda RX-7, named FC and FD respectively, are two of the most competent '90s sports cars that are still available on the used market for a price tag of under $14,000. The rotary engine that finds its home under the hood of these twin-turbo machines generates around 255 horsepower when straight out of the factory. The mesmerizing beauty of the RX-7 series is to die for, and many gearheads bought it solely for that reason. The pop-up headlights and pleasant curves allowed for the car to become the poster car for many sports car fans in the '90s.
As for the acceleration, the car is sturdy yet lightweight, hence going from 0 to 60 mph in less than 5 seconds, which is quicker than many modern sports cars. The 1990 FC variants can be found for as low as $2,818, which is very affordable, but one might have to deal with older hardware and lower reliability, unlike the 1993 Mazda RX-7 FD.
3
1998 Mitsubishi 3000GT – $14,736
Sprinting was second nature to the 1998 Mitsubishi 3000GT, with 4.8 seconds being all it took for this machine to go from standing still to running at 60 mph down the highway. If the Japanese could have their way, their machines would begin to fly. The Mitsubishi 3000GT is a highly significant classic from the late '90s that could go as fast as 160 mph.
The car could generate as much as 320 horsepower using its 3.0-liter V6 twin-turbo engine. Some of these machines can be found on the used market for as low as $10,000, though the ones in good condition and marked as fair price are usually at around $14,736, which is still an affordable price for an amazing '90s sports car.
2
1996 Toyota Celica GT-Four ST205 – $16,251
Courtesy of its commendably vigorous turbocharged 2.0-liter 3S-GTE engine, the 1996 Toyota Celica GT-Four runs down the street while boasting an awe-inspiring 239 horses under its hood. The car's all-wheel-drive powertrain and superb suspension ensure absolute precision on the road. The 1996 Toyota Celica GT-Four ST205 won a full WRC series, and was an overall winner in the W2L series twice in 1996. Despite its unmatched credentials and prestige, the Celica GT-Four remains astonishingly accessible in the used car marketplace.
When it comes to '90s cars, the Toyota Celica GT-Four, in true Japanese fashion, graces the market with an affordable price tag, often lingering below the $20,000 threshold. Some outlets value the car at an average price point of $16,251, which is a steal considering the car's specifications.
1
1993 Chevrolet Corvette – $17,073
Over the years, the Chevrolet Corvette has evolved into a fearsome monster, with the 2023 Corvette C8 Z06 being considered the greatest American supercar ever. Those who can't afford to purchase modern machines like these, end up scavenging the scrapyards or looking through the used marketplace for an older model of the machine, hopefully at a cheaper price. For such a dedicated sports car fan, the 1993 Chevrolet Corvette is the perfect pick.
Available for around $17,073 on the used market, this car comes fitted with a powerful 5.7-liter V8 engine that can pump out around 300 horsepower. The ZR1 variant can conquer the 60 mph point in a mere 4.7 seconds, for they come fitted with a 5.7-liter V8 engine that gives an enormous 405 horsepower, enough to leave any car fan smitten.