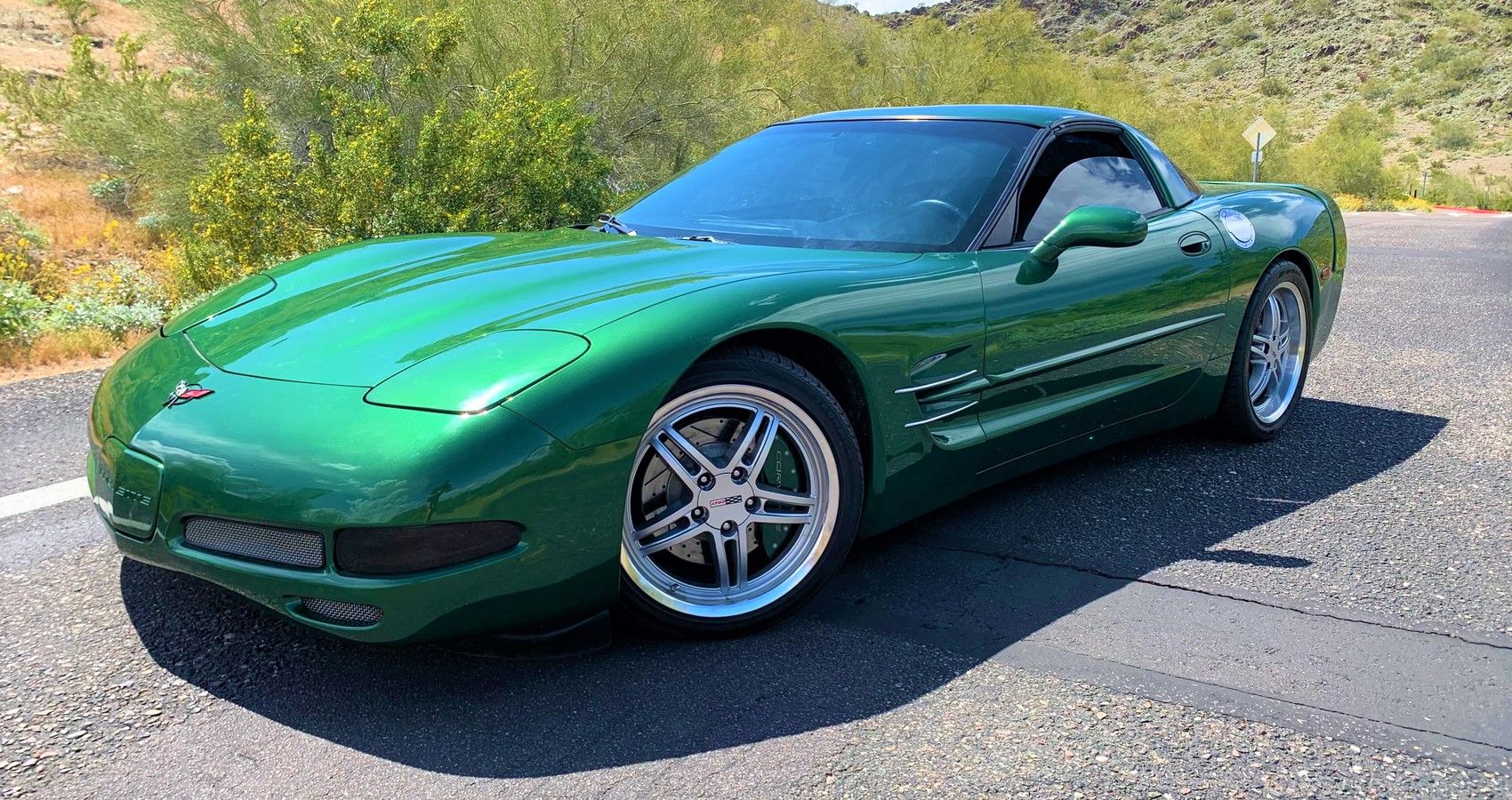 10 Coolest Sports Cars To Buy On A Budget Without Looking Cheap
It's hard to beat a back road jaunt in a sports car. In between gearshifts, you can hear the engine rise through the revs, and through the corners, you can feel the tires grip the tarmac. Sometimes it might even feel like you're a race car driver competing for the win. That's a lot of fun.
With today's advanced technology and sophisticated powertrains, top-performing sports cars can carry substantial price tags. And that can leave many enthusiasts without a ride to enjoy the twisties. But if you seek out specific models from years past, you can find a sports car on a budget while still enjoying top-level performance. That way, you can have fun driving without worrying about meeting your obligations.
Here's our 10 favorite sports cars that won't break the bank.
10
1997-2004 Chevrolet Corvette: $13,558 – $17,731
The C5 Chevrolet Corvette signified a new era in American sports cars when it debuted in 1997. Featuring advanced elements like a hydroformed frame, an LS1 V8, and rear transaxle, the new Corvette had the tools to compete with almost any European rival.
If you're currently in the market for a used sports car but want to be sensible, just take a look at Chevy Corvette values on KBB.com, where you can see the great deals to be had.
RELATED: A C5 Chevrolet Corvette Is One Of The Best Performance Cars On A Budget
9
2005-2015 Ford Mustang: $7,134-$17,680
Upon its introduction, the 2005 Ford Mustang S197 offered retro styling along with modern engines, tuned suspension, and strong brakes. While previous generations of the Mustang went with a contemporary new look, the '05 version went in the other direction, giving fans of classic cars an exciting option.
Kelly Blue Book has helpful tools for used Ford Mustang values, so you can find just the one you're looking for.
8
2000-2006 BMW M3: $14,431-$17,845
For those who prefer European performance cars, the BMW M3 is an exciting option. Featuring a near 50/50 weight distribution for balanced handling and the company's storied inline-6 engine, the M3 is a vehicle for the true driving enthusiast. The third generation E46 BMW M3 brought a high-revving S54 engine and firm sports suspension that helped it run with some of the world's best sports cars.
If you're a fan of European cars and want to avoid a high price tag, KBB has useful guides on used BMW M3 prices.
7
1996-2004 Porsche Boxster: $9,314-$16,965
With the 986 Porsche Boxster, the company returned to its roots. Channeling the energy of the original Porsche 356, the Boxster's lightweight open-top layout and raspy flat-six engine made for a pure driving experience. Instead of raw horsepower and 0-60 times, this Porsche roadster put the focus on handling, sound, and fun.
Although a new Porsche can be pricey, you can score a deal if you research the pre-owned market. Just take a look at Kelly Blue Book, where you can find current pricing on a used Porsche Boxster, and find your dream ride.
RELATED: 10 Things You Need To Know Before Buying A Used 986 Porsche Boxster
6
2005-2015 Mazda MX-5 Miata: $7,903-$14,334
Since the original Mazda MX-5 Miata debuted in 1989, it's become known as one of the most fun-to-drive vehicles on the planet. With its small footprint, peppy engine, and agile handling, the MX-5 offers a driving experience unlike anything else on the road.
And since the MX-5 Miata features reasonable pricing to begin with, a used example lets you hit the back roads without breaking the bank. On KBB.com's guide to used Mazda Miata MX-5 values, you can research details like options, reviews, and pricing.
5
1999-2003 Honda S2000: $11,381-$11,491
Honda has a storied history of building high-performance four-cylinder engines. And the F20C engine in the AP1 Honda S2000 is among the best street motors they've ever made. Producing 240 horsepower and revving to an astronomical 9,000 rpm, the original Honda S2000 makes it feel like you're a race car driver on a mountain road.
If that sounds like what you're after, Edmunds has the info you need for a used Honda S2000 value and more.
RELATED: Here's What Made The Honda S2000 So Awesome
4
1998-2006 Audi TT: $5,707-$7,481
The MK1Audi TT captured enthusiasts' attention with its retro yet modern styling and true performance car credentials. The TT uses the brand's typical attention to detail, from the sharp exterior lines to the aluminum accented interior. And with a refined turbocharged powerplant and Quattro all-wheel drive, this German sports car offers versatile all around performance.
German car enthusiasts who want to score a deal can find great prices on a used Audi TT. Just browse through the KBB.com website, where you can find detailed info on retail values and available options.
3
2002-2009 Nissan 350Z: $5,181-$12,075
With its taut, muscular sheet metal and powerful V6 engine, the new Nissan 350Z was a bold new take on the company's venerable sports car. To suit varying tastes and budgets, trim levels included Base, Enthusiast, Performance, Touring, and Track.
And with the 350Z's timeless styling and excellent dynamics, it still holds its own against today's sports car. So if you're on a budget and need an exciting ride, check out Edmunds for current values and trim levels.
2
1996-2002 BMW Z3: $3,288-$7,449
The BMW Z3 Roadster brought a dose of excitement to the market with its retro looks, neutral handling, and peppy acceleration. Or for enthusiasts who wanted ultimate acceleration and road-holding, the Z3 M and M Coupe versions had the tools to compete with almost anything.
Today, for drivers who want performance and looks but don't want to spend too much, the BMW Z3 is a great option. For more on used BMW Z3 value and reviews, Edmunds has the details.
1
1997-2003 Porsche 911: $18,932-$20,161
When the 996 Porsche 911 Carrrera debuted, it featured a drastic change: a water-cooled engine. Many drivers — used to the company's tried and true air-cooled designs — weren't enthusiastic about the change. But the new 911 brought improved acceleration, MPG, and comfort.
If you're in the market for a sports car but don't want to spend a bundle, Edmunds's value guide for a used Porsche 911 can steer you in the right direction.