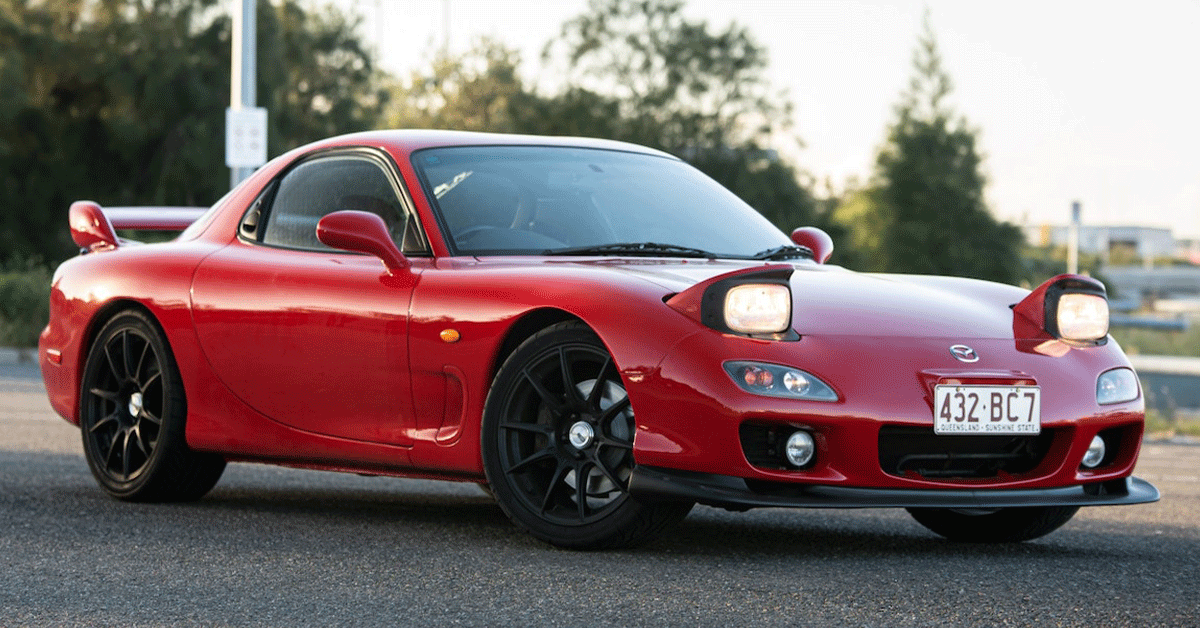 10 Cheap JDM Sports Cars That Pack A Punch
The '90s was the golden period for the land of the rising sun. Japanese carmakers were coming up with beautiful, highly desirable sports cars. Nissan had their 300ZX and the powerful R32-R34 Skyline GT-R models, while Honda shocked European rivals with the Acura (Honda) NSX. Mazda came up with the absolutely insane rotary-powered RX-7, while Toyota made the legendary Toyota Supra, to mention a few.
RELATED: 10 Affordable JDM Sports Cars Perfect For Budget Enthusiasts
The best reason to buy JDM sports cars is they're mostly available for reasonable prices. While this has been true for a long time, prices of highly sought Japanese sports cars from the '90s have highly increased over the past decade. They've reached a point where most of these iconic classics are unobtainable for many car enthusiasts. Luckily, there are used cars from Japan with powerful engines for those on a tight budget that want a sporty JDM machine. Here are 10 cheap JDM sports cars that pack a punch.
10
Honda Integra Type R DC5 ($7,030+) – 217 HP
It's a no-brainer that you get a Type R-badged model if you want a fast, powerful, high-performing Honda sports car. The "Type R" designation needs no introduction; it reigns supreme over all others in the Honda alphabet. With prices of the Acura NSX and the Civic Type R hatchback through the roof, go for the 2002-2006 Type R version of the fourth-generation Honda Integra DC5.
Known for its razor-sharp handling, the Honda Integra Type-R DC5 will mesmerize you with its sporty manners. A robust 217 horsepower is also at your disposal from its spirited 2.0-liter DOHC i-VTEC four-cylinder K20A engine, coupled to a six-speed close-ratio manual. Originally, only delivered within Japan (2002-2006), it's a very affordable JDM sports car to bring to the USA.
9
Mitsubishi GTO Twin-Turbo ($8,550+) – 276 HP
While many of its '90s counterparts have recently been fetching outrageous six-figure sums, the Mitsubishi GTO has largely flown under the radar. The Mitsubishi GTO was the JDM-only version of the Mitsubishi 3000GT, a good choice if you're looking for a powerful yet affordable JDM sports car.
The Mitsubishi GTO included the same cutting-edge technology and features as the 3000GT VR-4 and almost the same engine options. The most powerful Mitsubishi GTO had a twin-turbocharged version of the 3.0-liter V6 delivering 276 horsepower, linked to a six-speed manual. It can be yours for as low as $8,550 in the Japanese market.
8
Toyota MR2 GT-S ($12,319+) – 245 HP
Launched in 1984 as a relatively cheap two-seater, mid-engine, and rear-drive sports car, the Toyota MR2 proved irresistible. It also boasted good reliability and low maintenance costs, but never had much muscle until the SW20 generation. The second-generation Toyota MR2 arrived in 1989, bigger, more practical, comfortable, and luxurious, necessitating a more potent turbo engine.
RELATED: 10 Cheap JDM Sports Cars That Are Perfect Tuners
From 1993 to 1999, lucky buyers could buy the JDM-only Toyota MR2 GT-S. It was a different animal, featuring a 245 hp 2.0-liter turbocharged 3S-GTE four-cylinder. With Toyota's innovative 'twin entry turbo' tech to reduce low-rev lag, it could dash from zero-to-60 mph in only 6.5 seconds. The Toyota MR2 GT-S has maintained affordability over the years, making it one of the best budget JDM sports cars.
7
Toyota Soarer GT-T JZZ30 ($11,330+) – 276 HP
The third-gen JDM Soarer has been available to import for a few years, with Toyota producing them from 1991-2000. Sporting a sleek look that will command attention, the Soarer GT-T JZZ30 was the sportiest model of the Z30 range.
While Toyota promoted the auto-only transmission equipped 4.0-liter V8 Soarer as the flagship luxury coupe, the six-cylinder version was the proper sports machine. The Soarer GT-T JZZ30, which can be had for $11,330, is like a cheap version of the Toyota Supra. It sported the legendary 2.5-liter turbocharged 1JZ-GTE engine, cranking out 279 hp and 268 lb-ft of torque, mated to a rare five-speed R154 manual transmission.
6
Nissan R34 Skyline GT-T ($11,750+) – 276 HP
The Skyline R32-R34 GT-Rs that never officially made it to the United States are among the most coveted Nissan sports cars. But have you heard of the Nissan Skyline 25GT Turbo, also known as the GT-T? A variant of the R34 Skyline model, this cool-looking Japanese sports car holds its own when it comes to power and performance. It boasts a stout 276 hp from a 2.5-liter turbocharger RB-25 straight-six engine.
Sure, it doesn't pack the same advanced tech technology as the Nissan R34 Skyline GT-R, including the ATTESA E-TS Pro AWD system. But it has the same iconic squared-off body styling. Better yet, having lived under the shadow of its more powerful and popular stablemate, it's dirt cheap in comparison. The Nissan R34 Skyline 25GT Turbo sells for $11,750 and above in Japan.
5
Toyota Celica GT-Four S205 ($12,540+) – 252 HP
Many enthusiasts widely regard the third-gen Toyota Celica GT-Four as the greatest Celica ever. It marked the first time a Japanese constructor triumphed over the European constructors in the WRC, winning the title three years in a row (1992-1994). Introduced in 1994 for the Japanese market, the road version of the WRC-bred S205 coupe was the most powerful version of the Celica.
RELATED: 10 Unforgettable JDM Sports Cars
It used an improved CT20B twin entry turbocharger, enabling the revered 2.0-liter '3S-GTE' power plant to generate 252 hp and 223 lb-ft of torque. The power reaches the pavement via a five-speed transmission and advanced full-time AWD. The Toyota Celica GT-Four S205 can rip to 60 mph in 5.9 seconds and touch 153 mph. Despite its glorious racing heritage, it remains a cheap ticket to some amazing turbocharged JDM power, available from around $12,540.
4
Mazda Eunos Cosmo Series JC ($14,150+) – 280 HP
The Cosmo, produced by Mazda's premium offshoot brand called Eunos, served as Mazda's top premium offering from 1965-1996. The Series I was the car that helped get the Mazda Wankel engine off the ground. The last iteration was the Cosmos Series JC, only marketed in Japan between 1990-1996. It had one of the largest displacement and most powerful versions of the Mazda's rotary power plant.
The standard engine was a 13B twin-turbo two-rotor, rated at 230 hp and 217 lb-ft of torque. Optional was a 2.0-liter triple-rotor 20B that produced 280 hp plus 297 lb-ft of torque. Today, Eunos Cosmo Series JC prices start at only $14,150 in Japan.
3
Nissan Silvia S15 R Spec ($14,610+) – 247 HP
The Nissan's S-chassis, or Silvia as it's popularly called in Japan, remains one of the most desirable JDM sports car chassis for enthusiasts. And for good reason. It makes for a solid, fun, affordable drift car with a traditional front-engine and RWD layout. It also enjoys lots of aftermarket performance and aesthetic support. The Datsun Coupe 1500 CSP311 from the '60s was the first JDM car to carry the Silvia name.
But the legendary S13, S14, and S15 trio are the most popular, becoming top drift enthusiast's choices. The Nissan Silvia S15 particularly stands out for featuring in Fast and the Furious: Tokyo Drift (2006)and packing a serious punch. The trim you want is the Spec-R. It debuted in Japan in January 1999, sporting a ball-bearing turbocharger upgrade that helps the SR20DET inline-four unleash an exhilarating 247 hp and 207 lb-ft of torque.
2
Mazda RX-7 FD Type RS ($15,590+) – 255 HP
The Mazda RX-7 FD Type RS is an underrated trim of the third-gen Series 8 (chassis code FD3S). It was only sold in the Japanese Domestic Market (JDM) from 1998-2002. It came in lighter than the regular FD RX-7s, weighing 2,822 lbs, and equipped with a Bilstein suspension, reworked transmission, and upgraded brakes.
RELATED: 10 Best '90s JDM Sports Cars To Buy Right Now
The most amazing thing is that the Mazda RX-7 FD Type RS has an engine the size of a microwave. But don't dare underestimate the iconic 1.3-liter twin-rotor 13B rotary engine. It spews 276 hp alongside 232 lb-ft of torque, thanks to less restrictive exhaust and highly efficient turbos. Most enthusiasts and collectors opt for the limited-edition Type RZ and Spirit R. The Mazda RX-7 FD Type RS remains an overlooked gem, powerful yet available at a comparatively cheaper cost of $15,590+.
1
Honda Prelude Type S BB6 ($18,922+) – 220 HP
The Honda Prelude Type S is among the least-remembered JDM sports coupes from the '90s. Honda launched it in the Prelude's fifth-generation as the highest-performance model of the lineup. While it was the most advanced, cutting-edge Honda bar the NSX, it was only sold exclusively in the Japanese Domestic Market from 1996 to 2001. Today, it's hard to find, but when the Prelude Type S BB6 pops up on JDM used car sites, it's reasonably priced.
The Type S spec coupe packs a formidable 2.2-liter DOHC inline-four, providing old-school VTEC fun and power in plenty. It kicks out 220 horsepower from the "red top" H22A engine, paired with a slick, five-speed manual transmission. Power aside, this sports coupe has impeccable driving manners and a captivating design that will turn any JDM enthusiast's head.
Sources: Insiders UK, Petrolicious, JapaneseCarTrade, Goo-net-exchange, Classic