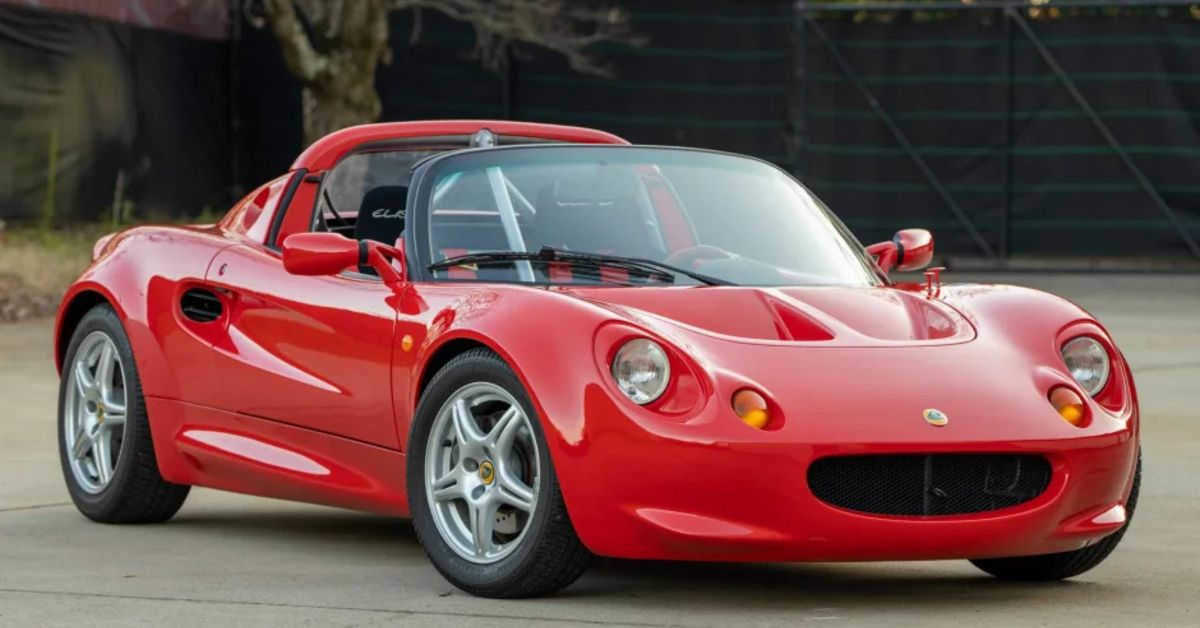 10 Cheap European Sports Cars With The Best Resale Value
Sports cars have been the lifeblood of car enthusiasts across the globe for decades and decades now, and nowhere more prominent than across Europe. It's no surprise then, that some of the most desirable and sought-after sports cars hail from there.
Over the years, certain used cars of this nature have proved themselves as awesome investments, whereas others just seem to depreciate into bargain territory. Now, we're not about to start speculating about which models may appreciate into big-profit territory, but we can suggest that these 10 European sports cars below will at least offer great resale values when the time to move them on comes along.
We have collected data from sources such as Bring A Trailer and Hagerty to bring you these top 10 European sports cars with impressive resale values, while Autopadre has provided us with the anticipated depreciation percentages.
10
2010 Lotus Elise
Depreciation In The Next 5 Years: 0%
When on the subject of European sports cars, Lotus simply has to be discussed; the brand has produced some of the most driver-focussed and enjoyable sports cars of both the 20th and 21st century. The Elise is one of their greatest hits too, and this latest third-generation has proven itself to be a huge success for the company.
Pricing
| | | |
| --- | --- | --- |
| Trim | Avg. Used Market Range | Original MSRP |
| Base | $38,250 | $47,250 |
| SC | $60,000 to $80,000 | $54,990 |
Sure, it's not exactly a 'cheap car,' but in the context of low-volume production British sports cars, it's actually pretty much entry-level. Since the launch over 10 years ago now, prices have stayed pretty stable – and with a prediction of 0% deprecation over the next 5 years, resale figures are expected to remain comfortably high.
Related: 10 Things You Need To Know Before Buying A Lotus Elise
9
1997 Mercedes-Benz SL
Depreciation In The Next 5 Years: 1% appreciation
The SL takes a different approach to the Lotus above, equipping the cabin with plush leather seats, and loads of gadgets and delivering a ride that is smooth and comfortable. Hardly a stripped-out driver's car then, but thanks to a range of powerful engines and impressive handling characteristics, the Mercedes-Benz SL Class is still very much a sports car.
Pricing
| | | |
| --- | --- | --- |
| Trim | Avg. Used Market Range | Original MSRP |
| SL320 | $10,500 | $79,600 |
| SL500 | $15,000 to $30,000 | $89,900 |
| SL600 | $30,000 to $45,000 | $123,200 |
Earlier models have skyrocketed in price over the last decade, but the R129 remains very affordable, with nice examples barely breaching the $10,000 barrier. This won't last forever though, appreciation has begun, and we expect it to carry on for quite some time, so bag yourself a good one before prices shoot upwards.
8
2011 BMW 1 Series
Depreciation In The Next 5 Years: 15%
Here's another well-engineered German product, the BMW 1 Series. Initially, this may not strike you as a sports car, but the nimble chassis handles great, and they were offered with a superb range of inline-6 engines, so performance is much more punchy than you may first imagine. Our true favorite is the formidable 1M, but restrictive budgets would be just as wise to consider a capable 128i or 135i.
Pricing
| | | |
| --- | --- | --- |
| Trim | Avg. Used Market Range | Original MSRP |
| 128i | $11,225 | $30,325 |
| 135i | $13,000 to $21,500 | $37,225 |
| 1M | $55,000 to $90,000 | $46,135 |
Almost two-thirds of the original purchase price has been wiped out by now, making the 1-series coupe or convertible a very tempting purchase. A further 15% depreciation is forecasted over the next 5 years, based on 12,000 miles a year. We suspect many will be doing less mileage than this, but either way, that still leaves you with a great resale figure after enjoying this great BMW.
7
2004 Audi TT
Depreciation In The Next 5 Years: 3%
One more German coupe before we move on, and this time, it's in the shape of the handsome and gracefully-aged original Audi TT. This is fast becoming a modern classic, the retro interior and bubble-styling look fantastic, plus drivers love the Quattro all-wheel-drive system and varied engine options.
Pricing
| | | |
| --- | --- | --- |
| Trim | Avg. Used Market Range | Original MSRP |
| 1.8T | $6,600 to $17,000 | $33,250 |
| 3.2 V6 | $14,000 to $26,000 | $40,000 |
Just look at how cheap you can pick up a nice TT for these days, $6,600 is nothing for a capable sports car like this – plus it's reliable enough to genuinely use on a day-to-day basis, provided you keep up with associated maintenance and repairs. Our pick is a 1.8T Quattro, which offers just north of 200 horsepower and will prove very capable all year round.
Related: The Legendary Audi Quattro Sports Car Is Back For Business
6
2013 Caterham Seven
Depreciation In The Next 5 Years: 5%
Back to Britain now, and if you're feeling a little nostalgic, then perhaps this modern-day rendition of a 1960s classic will fit you just right. With no roof, minimal bodywork, and cut-outs instead of doors, you'll be fully exposed to the elements, so don't expect a comfortable daily driver here! The low-slung sports car offers true driver enjoyment, and you don't need a whole heap of power to have fun here.
Pricing
| | | |
| --- | --- | --- |
| Trim | Avg. Used Market Range | Original MSRP |
| 160 | $20,500 to $25,000 | $23,850 |
| 620R | $45,000 to $60,000 | $64,100 |
Resale values have always been a strong point of the Caterham, as owners are more than happy to jump the waiting lists to buy a lightly used second-hand example. Pick yourself a well-maintained example in a nice color scheme, and we bet you won't lose too much after you've enjoyed it for a few years yourself.
5
2004 MINI Cooper Hatchback
Depreciation In The Next 5 Years: 6% appreciation
The original Mini is of course a proper classic, but even this modern equivalent is now over 20 years old, and enthusiasts are hailing it as a gem modern classic. The 1.6-liter supercharged engine performs well and is easily tuned up to 200 horsepower, especially with John Cooper Works tuning packages.
Pricing
| | | |
| --- | --- | --- |
| Trim | Avg. Used Market Range | Original MSRP |
| Cooper | $7,000 to $10,000 | $16,449 |
| Cooper S JCW | $14,000 | $21,000 |
Prices are stabilizing for the MINI now, especially high-specification models, which are being sourced out by collectors and driving enthusiasts. In fact, these models have begun climbing in value, so 2023 is the perfect time to secure one. You may even be able to profit when you come to move it on.
4
2002 BMW Z3 Roadster
Depreciation In The Next 5 Years: 10% appreciation
A direct rival to the original Audi TT is this sharp and striking BMW – the Z3. Offered with a great selection of engines, our choice for a cheap but capable sports car is the 2.8 inline-6, which sounds glorious and has more than enough power, especially when you consider the diminutive proportions of this little BMW.
Pricing
| | | |
| --- | --- | --- |
| Trim | Avg. Used Market Range | Original MSRP |
| 2.3i | $11,000 to $15,500 | $31,300 |
| 2.8i | $14,000 to $20,000 | $35,900 |
| 3.0i | $18,000 to $30,000 | $37,900 |
Priced significantly higher than the TT, you may think the BMW is a less attractive proposition for those after strong resale figures, but the fact of the matter is, prices for these are climbing, and like many 1990s and early 2000s BMWs, they're not showing any signs of slowing down either.
3
2004 BMW Z4 Roadster
Depreciation In The Next 5 Years: 1% appreciation
If however, you fancy something a little newer (which may prove easier on maintenance), the BMW Z4 is of course an obvious alternative. Bigger and bolder than the Z3, this newer model features much-updated styling, and a comfortable interior, with plenty of creature comforts.
Pricing
| | | |
| --- | --- | --- |
| Trim | Avg. Used Market Range | Original MSRP |
| 2.5i | $13,000 to $19,500 | $34,800 |
| 3.0i | $15,500 to $24,000 | $41,800 |
| Z4M | $30,000 to $45,000 | $49,995 |
Pricing is very similar to that of the Z3, but the Z4 is definitely a better all-rounder, and much more suited to daily driving too. Prices are very stable for this, so there's all the chance that you can enjoy it for a few years, and then move it on for exactly what you paid.
Related: The E85 BMW Z4 Is Actually A Sports Car Bargain
2
1966 MGB
Depreciation In The Next 5 Years: 5%
Modern isn't always the best way though, sometimes a proper classic sports car is just what you need, and what better choice than the British favorite, MG B roadster! This popular little classic enjoyed a successful 18-year production run, so there's plenty to choose from. Earlier cars like this are much more desirable, although the later 'rubber-bumper' cars are accessible at a considerably lower price point.
Pricing
| | | |
| --- | --- | --- |
| Trim | Avg. Used Market Range | Original MSRP |
| B Roadster | $21,320 | $33,250 (accounting for inflation) |
| BGT | $18,700 | $33,800 (accounting for inflation) |
The original MSRP is little but irrelevant here, as prices have clearly moved on since the mid-1960s. A solid and well-serviced example will set you back around $20,000 – the joy of a back-to-basics classic like this, is that you can comfortably service and maintain it yourself too, which keeps ownership costs right down. There's always a wide demand for these cars, so naturally, resale values are constantly strong.
1
1994 Alfa Romeo Spider
Depreciation In The Next 5 Years: 15% appreciation
This article would not feel complete without featuring a dashing classic Italian sports car, so we've picked the best of the bunch – a simply breathtaking Alfa Romeo Spider. The S4 represents decades of improvement over the original, in terms of reliability and performance, but it still retains that timeless look. No wonder it's such an attractive proposition for those looking to venture into sports car ownership.
Pricing
| | | |
| --- | --- | --- |
| Trim | Avg. Used Market Range | Original MSRP |
| Base | $10,000 to $24,800 | $9,068 |
| Veloce | $15,000 to $30,000 | $9,711 |
Prices are simmering very close to the original asking price (with inflation accounted for, making the original price roughly $22,000), and with appreciation pegged at an estimated 15% over the next 5 years, we don't think it's long before good examples are over $25,000 as an average – top quality and restored models are already there. Resale values are nothing to worry about here but act fast if you want to buy before you're priced out of the market.